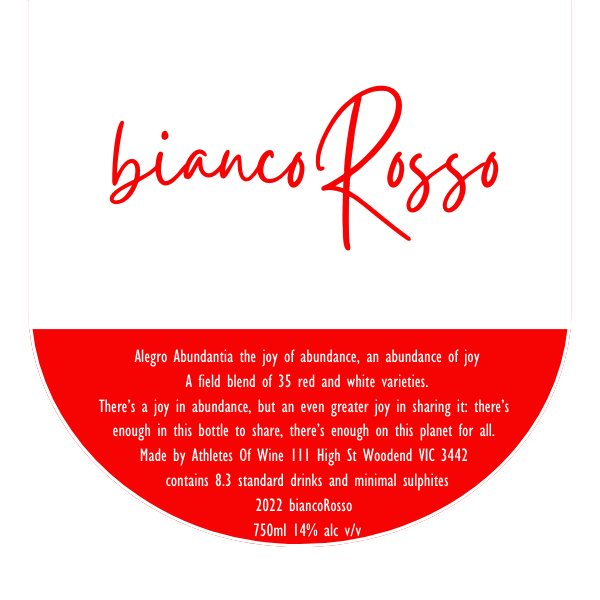 2022 Alegro Abundantia biancoRosso, Field blend
2022 Alegro Abundantia biancoRosso, Field blend
A light red masquerading as rosé? A red wine with white varieties in it? I call it a white red.  Full flavoured, creamy mouthfeel with lighter floral top notes to give it some lift.
Serve with bbq. The end.
 👁 The classic eye of the partridge - wtf does that mean? Pale garnet, tinged with fuschia and salmon 
👃 Red wine-like, with grilled meat, hard herbs and purple floral notes
👄 The palate is both deceptively full and deceptively light, depending on what you thought you were gonna get. The weight of a red with the lightness of rosé.
This is something I am very proud of, the second release under my newest label, Alegro Abundantia (a phrase I made up using my high-school Latin, meaning the joy of abundance). With the kind assistance of @fightinggullyroad and @billybuttonwine, all profits are donated to charities.
It's a not-quite-red-a-little-bit-white wine made from a single nursery block of over 30 varieties: Tinta Barocca, Freisa, Vernaccia, Mtsvane, Lagrein, Mataro, Sangiovese, Tannat, Sciacarello, Grignolino, Brachetto, Nebbiolo, Dolcetto, Barbera, Ruby Cab, Cab Franc, Merlot, Piquepoul Noir, Touriga Nacional, Mammolo, Teroldego, Bobal, Odola, Nero d'Avola, Montepulciano, Pinot Noir, Grenache , Egiodola, Aleatico, Fer Servedou, Saperavi, , Sangiovese Brunello, Farana, Colombard, and Roussanne.

Harvest time fills me with joy at the potential for abundant food and wine in our lives, and often it gives me pause to reflect on how so many people in the world do not have the luxury of such a feeling. Alegro Abundantia is my chance to give back, to try and share some of the good fortune I have, with those who have less.

Regular price
$28.00
$28.00